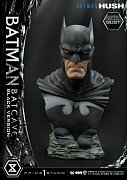 Batman Hush Bust 1/3 Batman Batcave Black Version 20 cm
EAN:

4580708035253

výrobné číslo:

P1SPBDC-06BL
skladová dostupnosť
dočasne nedostupné
260.00 €
\"Criminals, by nature, are a cowardly and superstitious lot. To instill fear into their hearts, I became a bat. A monster in the night.\"

Prime 1 Studio is pleased to announce the latest development in our Premium Bust Series: The 1:3 Scale PBDC-06BL: Batman Batcave Black Version Bust from Batman: Hush!

Prime 1 Studio has heard the clamor of our dedicated fans and has worked tirelessly to release a Black and Gray version of the previous Batman: Hush Premium Bust. As any diehard Batman fans know, Batman is often portrayed as either wearing Blue and Gray or Black and Gray. This makes for a genuinely flexible product offering for the Caped Crusader!

This 8-inch-tall Black Version Premium Bust has all the crisp detail and picture-perfect paint of the previous version!

Fans of Batman: Hush and Jim Lee art will want to snap this up as soon as it goes on Pre-Order...So do not delay!

Size: 20.7 x 13.2 x 10.5 cm

Limited Edition of 250 pcs worldwide.

Please note: For this item, demand is expected to be higher than the available quantity, which may result in allocations or cancellations of quantities ordered.