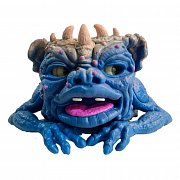 Boglins Hand Puppet King Wort
EAN:

850027360096

výrobné číslo:

TRIAT10011
skladová dostupnosť
34.00 €
Boglins® are back in their original size and cages, but they have evolved! Boglins® were extremely popular in the U.S. between 1987 - 1989, after which these creepy and cute puppets traveled around Europe, Canada, Japan and Australia for another 7 years but have been hiding ever since. Now the Boglins® are back with newly evolved styles and ready to burst out of their cages!

King Wort, so-called \'King of the Freaks\', has suffered the slings and arrows of many battles in the Boglands. He caught almost everything hurled at him, but the ones he missed left him pock marked for life. No great beauty to begin with, King Wort has always been a worthy leader of his band of defects and rejects.
These \'defectives\' who were scorned and banished from the other Boglands all gathered in King Wort\'s realm, where they were accepted for the content of their character and not some artificial standard of Boglin beauty.
Here, so called defects were instead heralded as a life well lived, which to King Wort means a life of conquest and battle scars. A life of the finer things, arts, literature music, science and creative persuits. Not a life of vanity and plasticized perfection.
Many of the deformed and disfigured found interesting ways to compensate for their loss by building elaborate mechanical extensions to their limbs. Some of these robotic extensions proved better than their original body parts.
In the end, the land of King Wort is one of great accomplishment and is looked at with jealous eyes by the other Boglin Kings.



This officially licensed Boglins hand puppet is approx. 17 cm tall and made from TPR.