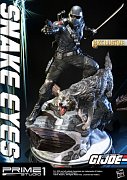 G.I. Joe Statue Snake Eyes Exclusive 65 cm
EAN: 26589465
výrobné číslo: P1SPMGJ-01EX
skladová dostupnosť
862.00€
Prime 1 Studio is proud to present PMGJ-01: Snake Eyes from G.I. JOE. One of the few mysterious and the more dangerous members of the G.I. JOE Team, Snake-Eyes served as a recon ranger in the jungles of Southeast Asia. All that can be said after that stint is he went on a long sabbatical, most believe it was in Japan. We know his fighting skills have become more efficient and deadly. Rumors surfaced that when he was recruited into the JOE Team by Hawk, he was hunting rabbits at the time... with his bare hands. Snake Eyes is one of the original and most popular members of the G.I. JOE Team, and is most known for his relationships with Scarlett and Storm Shadow. Snake Eyes is one of the most prominent characters in the G.I. JOE: A Real American Hero franchise, having appeared in every series of the franchise since its inception.

Producte Size: 65 x 45 x 45 cm

Features:

- One (1) Right hand Handgun
- One (1) Right hand Katana
- One (1) Left hand Uzi
- One (1) Left hand Katana
- Snake Eyes close companion Timber

The Exclusive Version also includes one alternate portrait head.

Limited to just 500 pieces worldwide.

Please note: Due to the size of this item, additional shipping costs may apply. Apart from your location, the actual package size and weight is needed to determine those costs. Both are unknown at this point and may not be available until the product arrives in our warehouse.