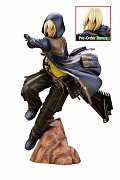 God Eater ARTFXJ Statue 1/8 Soma Schicksal Bonus Edition 24 cm
skladová dostupnosť
dočasne nedostupné
189.00 €
From the dramatic action RPG series GOD EATER, the young veteran God Eater, Soma Schicksal is being made into a 1/8 scale statue!

Soma\'s dynamic posing depicts him capturing an Aragami, ready to strike at any moment. The statue is full of details that can be enjoyed from every angle.

His expression is severe but cool as he fights the Aragami.

In addition to the character\'s design, the God Arc is also highly detailed. The attention to detail in the sculpt and realistic painting make this piece a must-have for fans!

Add this detailed recreation of Soma to your collection today!