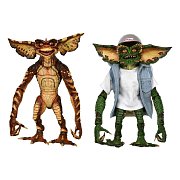 Gremlins 2 Action Figure Ultimate Demolition Gremlins 15 cm
EAN:

634482306314

výrobné číslo:

NECA30631
skladová dostupnosť
115.00 €
The Gremlins are back, and this time they\'ve taken control of a New York City media mogul\'s high-tech skyscraper!

These two 7? scale, fully articulated Gremlins figures (approximately 6? tall) are examples of what happens when you get a Mogwai wet. From the sequel movie Gremlins 2: Bad Batch, they\'re fully equipped to wreak havoc, with barrel, mallet, bomb, can, dynamite, dynamite plunger, interchangeable hands, hard hat, and fabric tee and jean vest.

Window box packaging.