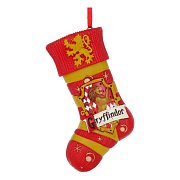 Harry Potter Hanging Tree Ornaments Gryffindor Stocking Case (6)
EAN:

801269143510

výrobné číslo:

NEMN-B5617T1
skladová dostupnosť
75.00 €
Officially Licensed Harry Potter Gryffindor Stocking Hanging Festive Ornament

Have your tree Yule Ball ready or show your love for Harry Potter with Nemesis Now\'s range of Harry Potter hanging decorations. Here we have a Gryffindor Stocking, immortalised in resin and ready to hang in your home.

Gryffindor is one of the four houses of Hogwarts School of Witchcraft and Wizardry and was founded by Godric Gryffindor. Gryffindor instructed the Sorting Hat to choose students possessing characteristics he most valued, such as courage, chivalry, and determination, to be sorted into his house. The emblematic animal is a lion, and its colours are scarlet and gold.

Size: 9,5 cm

This case contains 6 pieces.