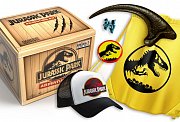 Jurassic Park Adventure Kit
EAN:

8437017951438

výrobné číslo:

DOCO-DCJP19
skladová dostupnosť
41.00 €
Are you ready to visit Jurassic Park? Let me introduce you to the amazing Adventure Kit.

The Kit Contents:

- Exclusive packaging
- Velociraptor claw - Highest quality replica (Size: 15 cm long / Weight: 150 g)
- Jurassic Park Cap
- Jurassic Park Nylon Bag
- INGEN Pin
- Jurassic Park logo badge (5 cm)

PLEASE NOTE: Due to the small edition size and the great demand for this item, allocations are expected to occur.