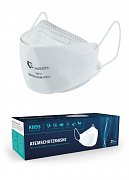 LAI AN ZHI Respiratory Mask KN95 (GB2626-2006) YX011 (25 Pieces)
EAN: 4056133017787
výrobné číslo: HPSA01002
skladová dostupnosť
38.00€
Respiratory mask with effective filtering performance, high comfort, and low breathing resistance.
With a flexible bridge of nose adjustment part, soft elastic bands and a pleasant multi-layered non-woven fabric, this mask offers effective protection, but also makes it easy to breathe with comfortable protection for the mouth and nose area for prolonged wearing.
This mask is suitable for protection against the SARS-Cov-2 virus; it is not to be used for other purposes (such as protection against oily aerosols). It is classified as equal or higher in terms of filtration performance of bioaerosols compared to FFP2 masks according to EN 149-2001. This was confirmed by the Structural and Approval Directorate of the State of Rhineland-Palatinate. The confirmation can be found under this
LINK
.
Single use is recommended and the mask should not be worn for more than 6 hours.
- Product: Respiratory mask
- Brand: LAI AN ZHI
- Model: YX011
- Manufacturer: Zhongshan Saifute Labor Protective Articles Co. Ltd. Zhongshan, Guangdong, China
- Classification: KN95 Filter efficiency for non-oily aerosols = 95 %
- Standard: GB2626-2006
- Certificate No.: WH0012-2020
- CMA No.: 160010110776
- Quantity/pack: 25 masks
- Quantity/box: 40 packages (1000 masks)
- Field of use: Air pollution in 2.5 PPM, bioaerosols (viruses, fungi, bacteria or pollen)