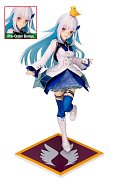 Nijisanji PVC Statue 1/7 Lize Helesta Bonus Edition 26 cm
skladová dostupnosť
dočasne nedostupné
292.00 €
The virtual Youtuber, member of Nijisanji and 2nd Royal Princess of the Helesta Kingdom, Lize Helesta is being made into a scale figure!

The most important feature and \"life\" of the figure, Lize\'s adorable face, is accurately recreated. Her flowing hair is painted with a striking pearlescent coating that catches light like a prism.

With several accents featuring the Helesta Kingdom\'s feather emblem, no detail is left unaccounted for in this intricately sculpted and painted piece.

The frills on the sleeves and skirt are created with translucent plastic, and look gorgeous from every angle.

\"Sebas\" who is resting on the figure\'s head is embedded with a magnet and can be removed.

Welcome Lize who is preparing to succeed to the Helesta Kingdom throne into your collection and your heart today!

*Fire Hazard: Do not place this statue near an open flame.

The Bonus Edition comes with an alternate face part.