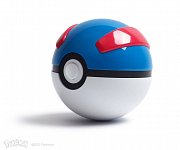 Pokémon Diecast Replica Great Ball
EAN:

5060178520514

výrobné číslo:

WRC13620
skladová dostupnosť
dočasne nedostupné
98.00 €
The Wand Company\'s range of die-cast Poké Ball Replicas are the first officially-licensed premium
collectible replicas for Pokémon fans.

This premium quality, highly accurate Great Ball Replica is made with an engineered metal shell has a deeply colored surface that is sensitive to touch and proximity and features a brightly illuminated button and lift-to-display illuminated presentation case. This Great Ball promises to be a beautiful addition to any Pokémon collection!

Ideal for collectors, the replica comes with a presentation case - authenticated by a uniquely numbered hologram - and a polished stainless-steel ring, so that you can display your Great Ball however you want.

Enjoy multi-colored lights glowing under the Great Ball when you open the case; control them by
touching the case\'s metal plaque.

Product Features:

- Highly accurate, electronic, display-grade replica with a finely detailed metal shell and a premium painted finish
- Beautifully brought to life with proximity-sensing technology
- Motion sensor activated multicolor button that changes light color or starts a Pokémon-catching illumination sequence
- Opening presentation case lifts Poké Ball for display
- Uniquely-numbered collectible
- Officially licensed by The Pokémon Company International

What\'s in the box:

- Die-Cast Great Ball Replica
- Metallic silver celebration year presentation display case
- Highly polished stainless steel display ring
- Illustrated manual
- Batteries included

Diameter of Great Ball: approx. 8 cm
Size of presentation case: approx. 9 x 10 x 10 cm

Please note: Due to great demand for this item, allocations are possible.