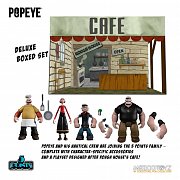 Popeye 5 Points Action Figures Deluxe Box Set 9 cm
EAN:

696198180602

výrobné číslo:

MEZ18060
skladová dostupnosť
dočasne nedostupné
50.00 €
Well blow me down! Popeye and his nautical crew are joining the 5 Points family - complete with character-specific accessories and a playset designed after Rough House\'s Cafe!

Ah ga ga ga! This titanic boxed set features Popeye, Olive Oyl, Bluto, Rough House, and a playset - talk about a whale of a time!

Once assembled, Rough House\'s Cafe features all the familiar details as seen in the nostalgic comic strips.


THE 5 POINTS POPEYE: DELUXE BOXED SET INCLUDES:

- Popeye - Known for his constant muttering, squinting, and superhuman strength after gulping down a can of spinach, Popeye will do whatever it takes to rescue his beloved Olive Oyl from the wicked hands of Bluto. Popeye comes with a spinach can that he can hold and two pairs of interchangeable arms.
- Olive Oyl - the poster girl for \"damsel in distress\", Olive Oyl is Popeye\'s eternal sweetheart. The two have stuck together through thick and thin.
- Bluto - the brutish arch-rival of Popeye, Bluto is always trying to get rid of Popeye or strike it rich. Bluto has a devious attraction towards Olive Oyl and usually attempts to make her his conquest. Bluto comes with two pairs of interchangeable arms.
- Rough House - a hard working chef and owner of Rough House\'s Café, offering hamburgers and advice to those in need. Rough House comes with a spatula and a frying pan that he can hold.
- Rough House\'s Café - owned and operated by Rough House himself, this greasy spoon is the local hotspot for Popeye and his pals.

ACCESSORIES:

- Two (2) pairs of interchangeable arms for Popeye
- Two (2) pairs of interchangeable arms for Bluto
- One (1) can of spinach
- One (1) spatula
- One (1) frying pan
- Four (4) display bases

5 Points are Mezco\'s upgrade to the articulated action figures of yesteryear. These highly detailed, poseable action figures feature some of pop culture\'s most familiar faces, both old and new.

5 Points present: Popeye: Deluxe Boxed Set is packaged in a collector-friendly box, designed with collectors in mind.