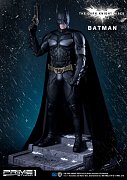 The Dark Knight Rises Statue 1/3 Batman 84 cm
EAN: 4562471907616
výrobné číslo: P1SMMTDKR-02
skladová dostupnosť
dočasne nedostupné
1,557.00€
Prime 1 Studio is proud to present the 1:3 scale MMTDKR-02: Batman from The Dark Knight Rises (Film). Bruce Wayne was the main protagonist of The Dark Knight Trilogy, described as a billionaire environment and military defense developer who witnessed his parent\'s murder at age 8, and later traveled the world for seven years to seek the means to fight injustice, fear and chaos before returning to Gotham City to become Batman, a bat-masked vigilante hailed as the city\'s \"Dark Knight\", who dedicated himself to protecting it from its criminal underworld at night as a means to uphold justice, hope and order. Batman from The Dark Knights Rises (Film) is precisely sculpted with screen accurate detail, capturing Christian Bale as the silent guardian of Gotham City and stands approximately 84 cm tall on a base environment based on the final battle scene. This is a must have statue for all fans of Batman from The Dark Knight Rises!

- Size approximately 84 x 45 x 42 cm

Please note: Due to the size of this item, additional shipping costs may apply. Apart from your location, the actual package size and weight is needed to determine those costs. Both are unknown at this point and may not be available until the product arrives in our warehouse.