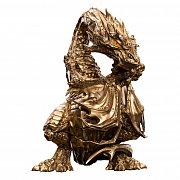 The Hobbit Mini Epics Vinyl Figure Smaug the Golden (Limited Edition) 29 cm
EAN:

9420024737446

výrobné číslo:

WETA875003744
skladová dostupnosť
181.00 €
Glittering coins. Golden treasure. And a goblet to hug his horn tip. Our King under the Mountain cradles his hoard.

Tales may fall short of the enormity of our fearsome fire drake, but our digital sculptor Mauro Santini sure didn\'t. We created this glitzy Smaug in STUPENDOUS size, towering above 29 cm tall, he\'s our biggest Mini Epic yet.

Product features:

- Premium vinyl collectibles, stylized and designed by artists of film
- True representations of the character by capturing their likeness, soul and personality
- This character is inspired by the original IP, displaying a respectful stylization of their iconic expression, posture, props and pairings with companions
- Highly detailed
- Your eyes aren\'t deceiving you: We\'ve created our Smaug in an EPIC size!

It measures approx. 20 x 29 x 19 cm and comes in a printed box.

Please note: Due to the small edition size and the great demand for this item, allocations are possible.